Struggle Inc: One Art Mougl's Rave Roots
Cody Hudson, a graphic artist working under the moniker
Struggle Inc.
, designs murals and posters with blocky, organic shapes in muted tones inspired by flora and fauna. In addition to his graphic work for brands like Nike, Stüssy, and Red Bull, Hudson has shown his fine art in galleries worldwide. Best described as abstract expressionist landscapes, his fine art features forms reminiscent of foliage, mountains, rocks, waves, mushrooms, and the sky. The work has a hand-drawn, cut-out feeling with a whimsical, construction paper vibe. His style is decidedly two-dimensional, though Hudson creates playful wood and metal sculptures that bring his iconic two-dimensional forms to life.
I first learned about Hudson when working with the creator of Massive, an underground magazine from the Midwest's early-1990s rave scene, which often featured Hudson's graphic design. Early issues of Massive are filled with black-and-white, xeroxed collages. Overlapping blocks of cut-out text with high-contrast permanent marker outlines and handwritten flourishes define the publication's early aesthetic. The pages are covered in blown out, warped, and — dare I say — "remixed" images, humorously reiterated in youthful 1990s digital graphics processing and printing. "Massive, to me, captured some of the Midwestern weirdness," Hudson says of the region's music scene.
His interest in graphic design came from a stint in underground party promotion. "I was learning about graphic design at the time and ended up helping throw a party with Kurt [Eckes of Drop Bass Network]," Hudson explains. The first flyer he designed was created for the September 1993 party Mideon. "After this, I realized I was more into the designing of the flyers than I was into throwing the party," he says. According to Eckes, Hudson was the graphic designer for the legendary
Drop Bass Network
music festivals, Even Furthur, from 1993 through 1999. "I always enjoyed making the Even Furthur flyers," Hudson remembers fondly. "Those parties were a highlight to the year."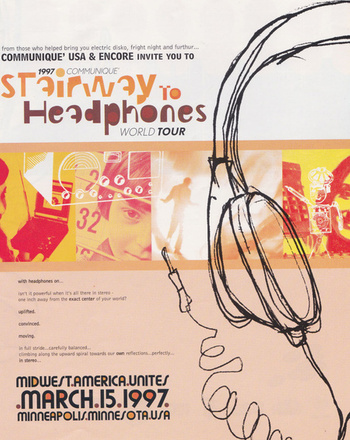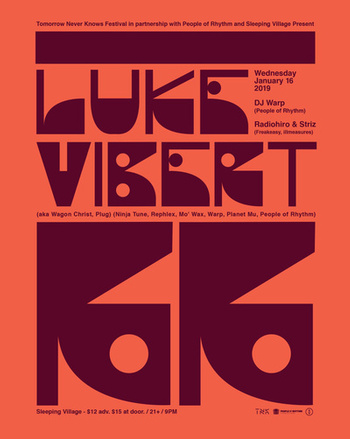 His artistic process and aesthetic style contributed to the distinct visual flavor of Midwestern rave culture. "[I was] using uncoated paper and spot color inks that made the Midwest flyers stand out," Hudson recalls. Looking through an archive of Even Furthur promotional materials, you'll find a treasure trove of 1990s underground nostalgia and hippie revivalism, rife with spirals, yogic motifs, and wavvy, Hendrix-inspired typefaces. The event's name is an homage to the Grateful Dead, after all.
Today, Hudson's graphic work is more refined and minimalist, but remains tethered to the visual and subcultural ethos of his rave days. "I still love the energy," he says. "I appreciate the DIY spirit of [raves] and still try to have that feeling in my work." Today he makes work that still emphasizes community and togetherness, but that he feels is "less about the party now." His take on quintessentially hippie values resonate throughout his body of work, from the 1990s to his contemporary graphics. This is especially prominent in his drawings of plants in peace sign pots, or text-based designs featuring slogans like "trip out", "acid", and "people power." Hudson's work is borne of artistic and cultural movements that emphasized personal and artistic freedom and also advocated for shifts in consciousness or perspective, all with an antiestablishment undercurrent. Sentiments about personal power and artistic freedom are present across the visual and rhetorical content of modern and contemporary art, especially in the case of abstract and conceptual art movements, which rebelled against art world conventions.
The organic, graphic, blocky shapes that comprise the bulk of Hudson's contemporary work are increasingly popular motifs. "I've been working in that style for a good 15 years, so it's a bit crazy to see how popular it is now," Husdon says. He appreciates abstract shapes because they are open to interpretation and invite greater participation from his viewers. Early abstract expressionists emphasized freedom of expression and interpretation, too. They valued art-making as a means of conveying spiritual and emotional phenomena, things beyond the five senses rather than mere representations of the physical world. Relying on a palate of solid, abstract shapes allows Hudson to explore color, texture, and medium while maintaining a distinct artistic identity. From large-scale murals to small-scale paintings, and screen printing to sculpture, Hudson traverses mediums, making him extremely versatile in his craft.
Hudson is very humble, and grateful to have found success as an artist in the modern world. He is thankful for his creative evolution and to have the good fortune of making his living as a working artist. "I was able to take something that started as these flyers for parties and turn that into what I would do for the rest of my life," Hudson says. Though he has worked with larger- than-life brands and shown his artwork internationally, Hudson explains that it's difficult to identify a single career-defining moment. "[It's] hard to say. I have been doing this for [over 27] years, so it all seems like one long journey that I'm on."