What does it mean to paint the unknown? Caroline Kent attempts to articulate this mysterious space in larger-than-life compositions in mirthful colors on vast fields of black. The forms in her work are unfamiliar and ambiguous, yet feel reminiscent of something. Each painting is a vignette of multi-layered textures, flat shapes, and wild colors which conjure up notions of otherworldliness against an omnipresent black background. Vivid colors like electric, minty green brushstrokes against a dusty rose form, fade into, emerge from, and float within what Kent calls a "black ground."
Viewing Proclamations from the Deep, Kent's first solo exhibition in New York City at Casey Kaplan, I was easily swept away into the alternate reality her paintings inhabit. Punctuating her usual large compositions on black—the centerpieces of the show—are wooden sculptures, an impression in cement, works on Belgian linen, and some smaller-scale paintings. Of varying degrees is a pared-down painting in the show which makes use of patchy gray forms, translucent evergreen shapes, and martian pink accents. Several gray forms lie on the backmost layer of the painting, above a black field. Two green shapes hover above these gray shapes with similar, though not identical, forms. The pink accents are the final layer: dotted blips, lines which connect and dissect, and two distant shapes that also overlap and imitate other forms in the work. She describes this painting as expressing change over time. Each of the slight variations in form reference, mimic, and rest atop one another, like still frames of a moment in time.
Kent's brilliance is most apparent in her skillful use of color and keen understanding of composition. In order to create her particular palette of opaque colors and vivid tones which dance in step with the black background, she mixes her hues with a warm-toned white. This creates colors that feel lively, inviting, and which attenuate the subsuming black surfaces on which she paints. Likewise, she uses black paint to temper, sculpt, and cut back as needed. This "black ground" is a space of infinite possibility which represents the bounds of human perception. "Blackness in this world is tethered to these places far out in the cosmos or deep in the sea. You go in either direction and you are met with blackness," she explains. "I like to think of blackness as a repository of the unknown and consider what might be conjured up in that space."

continue reading at mn artists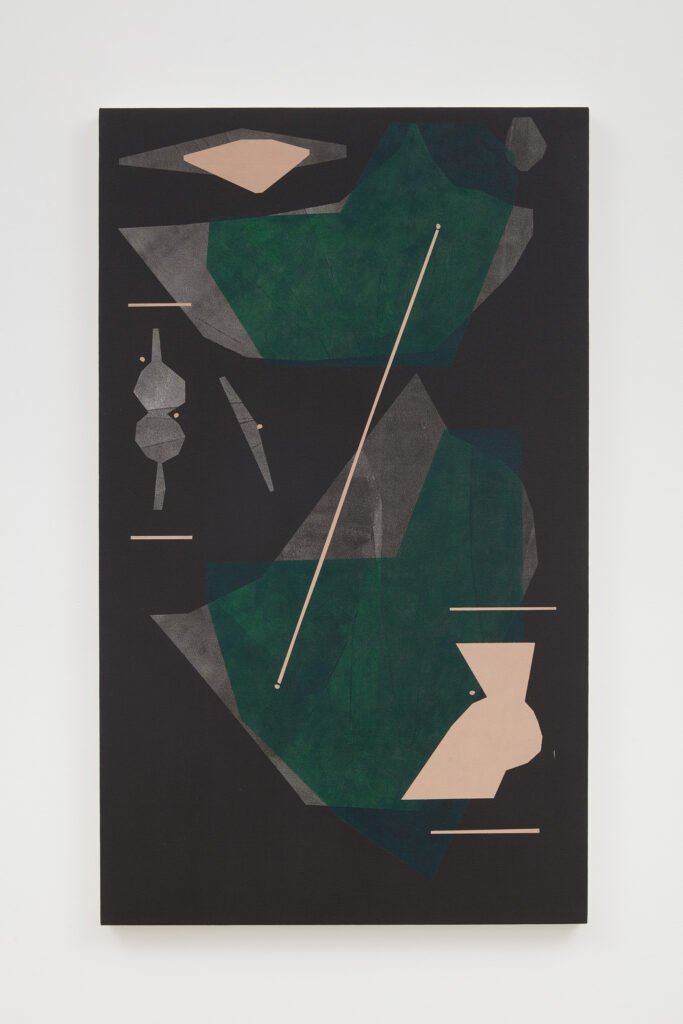 Caroline Kent,
of varying degrees
, 2021.
Image courtesy the artist and Casey Kaplan, New York.